While there is a lot of hype for e-commerce, human interactions and advisory are still critical for any complex decision journeys. Working with a leader in the life insurance category, Rosalina led a high-profile initiative to reimagine the brand's future insurance buying experience. The strategy capitalized on customer's desire to feel empowered and be an active participant in the purchase journey, as well as, advisors' desire to improve productivity.
Approach
As part of the outside-in methodology, the project started with interviewing financial advisors and end-clients to understand the insurance purchase journeys from both ends of the spectrum. The research points to strong receptivity on introducing digital into the purchase journey, particularly with customers and newer advisors that are still refining their art of selling. Rosalina also conducted a landscape scan to draw examples on how other brands effectively leverage digital and data to provide an omni-channel experience for their customers. Complementing that, Rosalina conducted an audit to understand the insurer's current process and technology use in the purchase journey. Weak links and gaps within the process and systems were identified.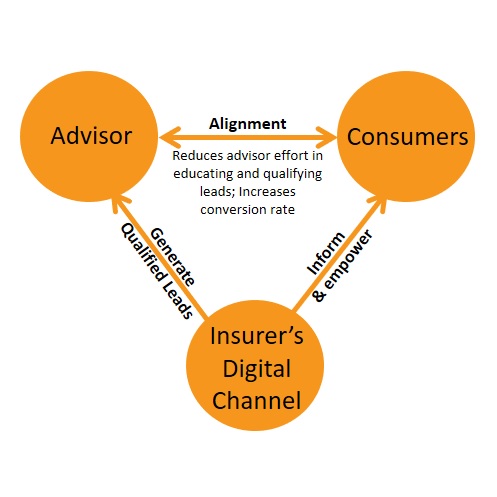 Strategy
The strategy painted a picture of a collaborative insurance purchase journey that provided a strong degree of flexibility and control from both the advisor and customer. This strategy was fueled by digital and data. Other than creating a proprietary collaborative platform, leveraging turnkey technologies (e.g. Skype for virtual meetings, hotspot on mobile phones) to improve the customer experience and streamline processing were also identified. Complementing the vision was a roadmap that identified the projects to close the gap between current and vision states.
The end strategy was well-received. Rosalina was invited to present the strategy to the most senior insurance executives at the organization. The client organization was able to use the digital strategy and roadmap delivered by Rosalina to inform its business transformation plans. The project champion described the principles in the digital strategy as the "fabric of the organization" moving forward.